Bacon, Bean and Egg Wrap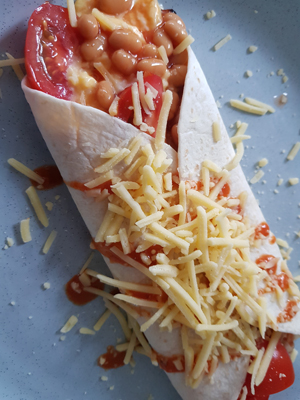 Ingredients
2 slices of bacon
4 eggs
butter
salt and papper
40gm grated cheese
1/2 cup baked beans
2 small tomatoes
2 tortilla wraps
chipotle sauce
extra cheese to garnesh

Method
Cook bacon until cooked through and crisp.

Heat beans.

Scramble eggs with butter, season with salt and pepper and add cheese and stir though.
Heat wraps so they are soft and pliable.

Assemble wrap by placing egg in a line down the middle of a wrap.
Add 1 bacon strip chopped into pieces. Add sliced tomato, and the beans.
Close wrap up and sprinkle with sauce and grated cheese.

Yummy.

Serves 2.

Optional:
Add sliced/diced meat (chicken, ham, sausage, etc).
Add chopped herbs of your choice - parsley, chives...
Serve with a side salad.
---