Chicken Lasagne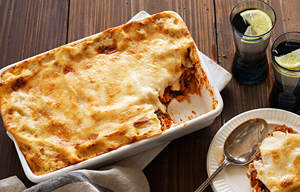 Ingredients
1 tablespoon of olive oil
500g chicken mince
2 cups Portobello, field or Swiss brown mushrooms
2 small red or yellow capsicum (bell peppers)
1/2 packet (about 200g) fresh spinach, chopped (or use frozen)
1 onion, chopped
2 cloves garlic, chopped
1/2 cup red wine
2 x 400g cans chopped tomatoes
2 tablespoons tomato paste
1/2 teaspoon paprika
2 tablespoons chopped fresh herbs of your choice (basil, oregano, rosemary are good)
2 cups cottage cheese
1/2 cup low-fat milk
1/2 cup freshly grated parmesan
250g packet instant lasagne sheets
Extra cheese (grated) for sprinkling on top (cheddar or parmesan)

Method
Preheat the oven to 180°C.
Heat the oil in a large pan and gently fry the onion and garlic until soft but not browned.
Add the mince and continue to cook gently. Add the bell peppers and mushrooms and cook for 5 minutes.

Add the tomatoes, tomato paste, wine, herbs and spices. Simmer for about 20 minutes, until the vegetables are soft and the liquid in the sauce has reduced by a third.

While the meat is cooking, make the cheese sauce. Blend the cottage cheese until smooth, and then add the parmesan and the milk. Blend until you have a smooth, creamy sauce.

Add the spinach leaves to the sauce, stir in and cook a few minutes until wilted (or thawed if using frozen).

In a deep oven dish, place a third of the chicken and vegetable mixture. Follow with a layer of pasta, a layer of chicken, a layer of cheese and repeat the layering, finishing with the cheese. Sprinkle the extra cheese over the top of the lasagne and place in the oven.

Cook for 30-40 minutes. Let stand for 5 minutes before serving with a green salad.

Variation: Change the vegetables to whatever works for you, or what you have in the pantry. Try zucchini, aubergine, carrots, and celery.

Variation 2: Make it low carb and gluten free by replacing pasta with sliced corgette, eggplant or capsicum roasted until soft in the oven.
---