Individual Chicken Casseroles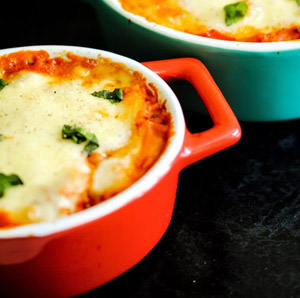 Ingredients
For this you'll need 4 oven-proof dishes about ¾ to 1 cup in capacity.

500gms chicken meat cut into 2cm dice
1 tablespoon oil
1 medium onion finely chopped
1 clove garlic crushed
400 g tin chopped tomatoes
¼ teaspoon dried basil
¼ teaspoon dried oregano
¼ teaspoon sugar
1 tablespoon grated parmesan cheese
1 tablespoon dried breadcrumbs

Topping:
1 tablespoon butter
1tablespoon plain flour
¾ cup milk
¼ teaspoon dry mustard
¼ cup grated parmesan cheese
1 egg, beaten

Method
Pre-heat oven to 180C.

Sauté onion and garlic in oil for a few minutes, then add the chicken meat and cook, stirring, until mostly cooked through.

Stir in tomatoes, herbs and sugar and simmer for 5-10 minutes. Transfer into individual oven-proof dishes.

While the tomato and chicken sauce is cooking, make the topping. Melt butter in a small saucepan, add the flour and stir to combine. Cook for a couple of minutes, then whisk in the milk. Heat until thick and starting to boil, then remove from the heat and add mustard, cheese and egg, whisking the egg in thoroughly.

Top tomato mix with the topping then sprinkle with cheese and breadcrumbs. Bake in the oven for about 20 minutes until cheese is lightly browned.

---